Sterilite SuperThermic is used for crops which are heated and where the advantages of the UV blocking IPM will be advantageous, for example organic growing.
...Read More
SKU
STERILITE SUPERTHERMIC
Product Code:
STERILITE SUPERTHERMIC
Metre

contains

0

items
All our transactions are secure

Speak to our experts:
Tel: 01270 212726

FREE delivery on orders over £200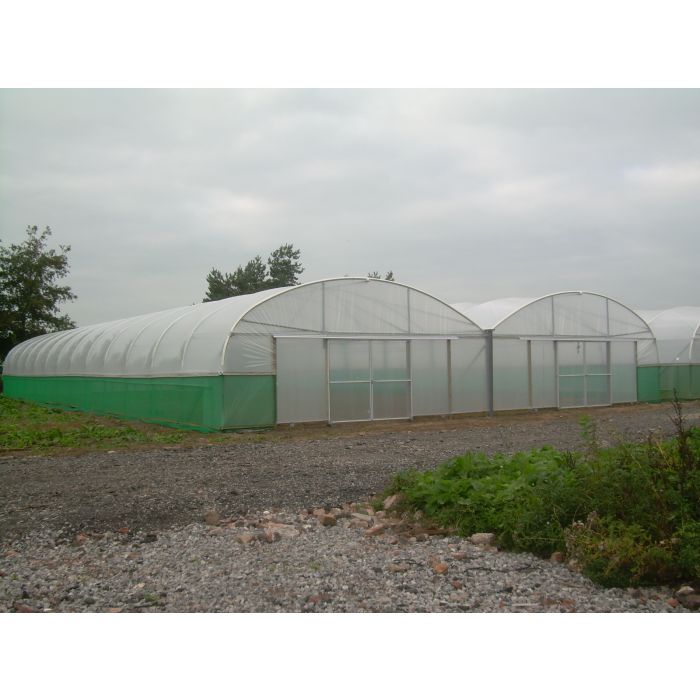 Sterilite Super Thermic
Sunmaster SteriLite was the first commercially available film to block all the Ultra Violet light up to 380Nms and won the award as the best new product at the Four Oaks Trade Show in the year it was introduced (1996). This is the opposite to the remainder of all XL's natural daylight films.
Following on from the success of an award for XL's Sunmaster SuperThermic in the Four Oaks Trade Show 2009 (best new technical product), XL decided to incorporate the SuperThermic package into the SterLite.
XL have a rolling improvement and updating policy and this was the latest improvement to XL's polytunnel film package.
Aphids see in UV light, so if you remove it they can't fly. They might enter the greenhouse but they won't colonise it, as they do with ordinary films. Botrytis and Mildew are very short lived and also need UV light to keep renewing themselves. Take the UV away and they struggle to survive. This also helps increase post harvest storage as there are less viable spores on the crop. This is known as Photological control and you don't have to use any chemicals, so SteriLite is ideal for organic growers.
SteriLite SuperThermic diffused films also have an additive which reflects part of the infra red thermal spectrum. This reflection will not only make the greenhouse up to 10% cooler than a clear film in high sunlight conditions, but also gives a much more pleasant working environment. More importantly when there is a lot of IR A/B it lowers leaf temperatures, reducing tip burning and moisture stress on the leaf and plant.
Sterilite SuperThermic is used for crops which are heated and where the advantages of the UV blocking IPM will be advantageous, for example organic growing
Great for vegetables, especially salad crops
UV blocking is proven to reduce fungal and aphid attacks and give a greater foliage area
XL SuperThermic films have been proven to give protection down to -7ºc frost protection
UV guaranteed life of 5 years
Life expectancy of 8+ years
Temperature reducing
Aphids see in UV light, so if you remove it they can't fly. They might enter the greenhouse but they won't colonise it, as they do with ordinary films. Botrytis and Mildew are very short lived and also need UV light to keep renewing themselves. Take the UV away and they struggle to survive. This also helps increase post harvest storage as there are less viable spores on the crop. This is known as Photological control and you don't have to use any chemicals, so SteriLite is ideal for organic growers
| | | |
| --- | --- | --- |
| Code | Width | mu |
| ST73 | 7.3m | 600 |
| ST92 | 9.2m | 600 |
| ST11 | 11.1m | 600 |
| ST14 | 14m | 600 |