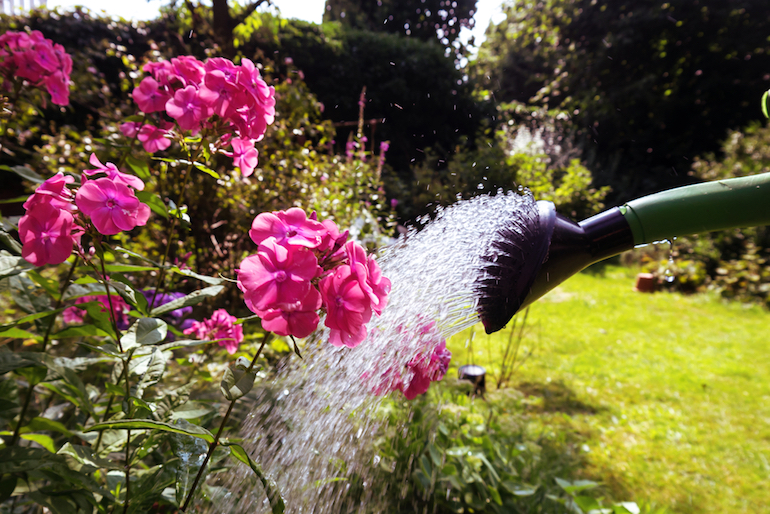 Plants perspire 85% more than we do in hot temperatures, so we need to look after them as much as ourselves.
Here's a few simple tips for looking after your gardens and lawns in the warm weather:
1. Don't panic into watering grass. When mowing adjust your mower blade to a higher setting to ensure grass stems provide shade to your soil. Try not to rake the lawn as the cuttings can also provide vital shade
2. Water plants in the morning and evening only. If you have a large area it could be worth in investing in a proper irrigation system to ensure equal and efficient distribution of water, ideally with a timer
3. With plants in the garden why not mix in a bark around the flowerbeds as this retains moisture and cools the soil
4. For tubs and hanging baskets mix in 'Raingel' which absorbs water over 100 times faster than other horticultural products
5. Don't go digging! Be careful not to over-dig in hot weather to minimise the loss of moisture from the surface of the soil
6. Hot weather reduces the soils ability to absorb the nutrition in fertilisers. Too much fertiliser can have the opposite effect and burn plants. Check for fertilisers that have improved absorption in hot weather
7. Train your plants – When plants are young they'll adapt more readily to the amount of water they receive, and get used to irregular watering
8. Invest in a water butt – it's an eco-friendly way to water your garden and you can also draw from it should a water ban come into play. If you have a large area why not look into a water storage tank
Here at JFH Horticultural, we offer a full range of water retaining products and irrigation systems to assist you in keeping your plants and gardens well hydrated throughout the Summer months.
For more information on all our products visit: www.jfhhorticultural.co.uk.