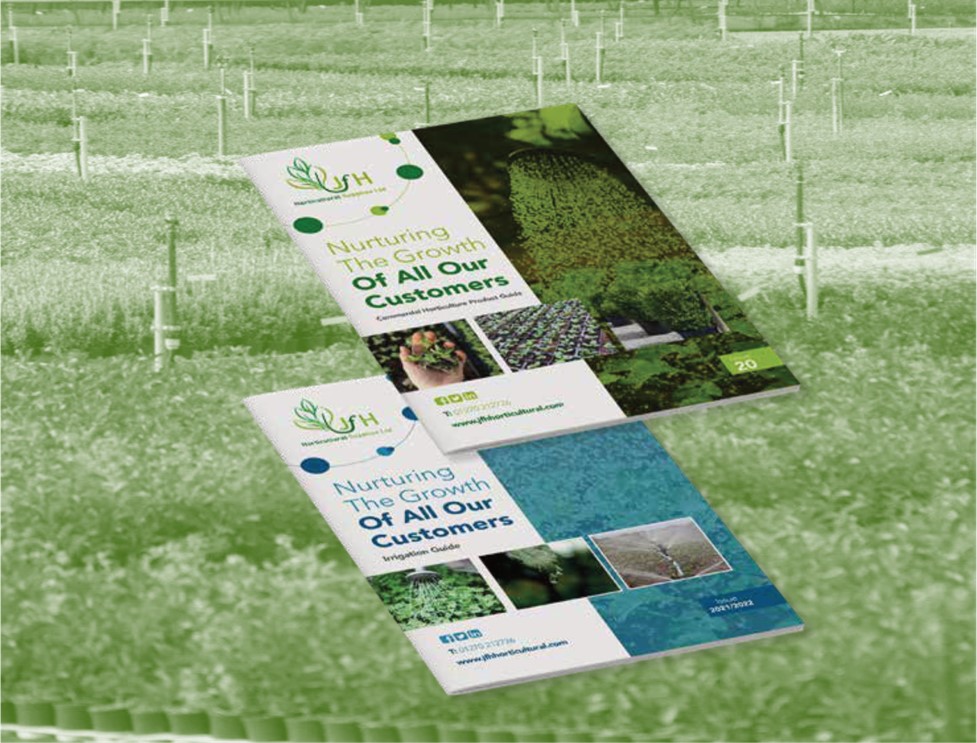 Here at JFH we have been busy producing the latest versions of both our main Product and Irrigation Guides to assist you in the everyday running of your business.
Issue 20 of our Horticultural Product Guide is packed with a large range of horticultural products including:-
Growing Medium & Fertilisers – From screened to milled peat, to peat reduced and peat free compost products. Organic growth stimulants and fertilisers, such as Seasol and Powerfeed to compliment and provide the added nutrients required.
Pots & Trays – An extensive range of container pots and trays designed and produced by leading horticultural manufacturers. From plug and propagation trays, through to container and thermoformed pots, the range is designed with the entire planting process in mind.
Fabrics & Netting – We stock many protective fabrics in order to protect plants from a broad range of weather conditions as well as suppress weeds and retain moisture all in a variety of widths and lengths.
Tree & Plant Care – We supply a large range of products intended to assist growers and landscapers with the care and maintenance of trees, plants and shrubs on the nursery and in the garden centre environment.
Baskets & Planters – Our range is primarily focused on outdoor items such as wicker baskets and planters made from the likes of bamboo, rattan, cord and reed, moss, woven and whitewash that come in a selection of various shapes, sizes and colours.
Packaging & Plant Labels – We offer a range of packaging products that provide solutions for presenting and packaging products. As well as quality ways to label your plants, flowers and other growing projects.
Tools & Nursery Handling Equipment – We offer a vast range intended to help you maintain, transport and display products making nursery handling easy, manageable and more productive.
Issue 2022/2023 of our Irrigation Guide is packed with an extensive range of parts, pipes and fittings for small or large nurseries.
We understand that commercial irrigation covers a large spectrum. This is why we are able to use our knowledge and resources to both advise and supply on multi-acre sites, new systems and upgrades all the way down to very small irrigation systems.
JFH supply specialist, wholesale growing products to businesses large and small all over the UK with the main focus being on customer service and the building of long lasting working relationships.
For further information on any of our products, do not hesitate to get in touch with our Sales Team on 01270 212726.