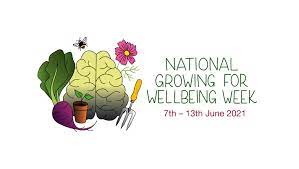 National Growing for Wellbeing week will take place on the 7th-13th June 2021 and is a celebration of gardening and growing your own produce. This is something that brings a lot of joy for so many people, and it's important to acknowledge the great benefits it can have on our overall wellbeing.
Lots of people have experienced the feeling of calm and serenity you get when sitting in the garden or even gardening as part of your job in the Horticultural Industry. Whether it's planting beautiful flowers, the sound of birds chirping or the feel of the freshly cut grass under your feet. It's this connection to nature and life that can aid us in feeling not only calm, but more aware.
How can gardening and growing improve our emotional wellbeing?
Physical Wellbeing: Gardening is great physical exercise – from planting seeds, cutting the grass or watering the flowers at home or at work as part of your job. All these things keep you active and help reduce the risk of illnesses such as diabetes. The increased endorphins from this exercise will also help boost your mood.
Routine: Having a special place in your back garden or at work that you can cherish and maintain can add some structure into your life.
Achievement: Gardening is a brilliant way of building confidence and self-esteem, as you can enjoy the results of all your hard work.
Social: Gardening not only allows you to feel connected to nature, it also enables you to connect with other people. Whether at work, a local gardening club, or visiting the local nursery, it can be positive to meet likeminded people who share the same interests.
Creativity: Gardening allows you to be creative and express yourself.
It doesn't matter how you decide to get started, but it's important to remember the benefits it could have on your life. Whether it be working in your garden at home or working in the Horticultural Industry and being able to do this as part of your job.